Learn 10 disruptive trends shaping the future of life science manufacturing, and how you can adapt to stay on target and ahead of the curve.
The pharmaceutical industry is ripe with growth, registering a compound annual growth rate (CAGR) of 9.1% from 2021 to 2022. Although revenues are on the rise, challenges still plague the industry. From historically high inflation to supply chain issues, the looming economic crisis, and shifting consumer preferences, it's more important than ever for life science organizations to adapt.
In our Pharma Trends 2023 eBook, we'll walk you through 10 disruptive trends reshaping life science manufacturing.
We'll begin with a snapshot review of 2022, and then dive into each trend, starting with cell and gene therapies and concluding with blockchain technology. Powered by the insights in this book, life science professionals can stay ahead of the curve and prepare for a successful 2023 and beyond.
Download it now to learn about what's happening with:
Cell & gene therapies
Big data & analytics
Adoption of cloud tech
Precision medicine
Blockchain technology & more
A Look Inside: Key eBook Insights
1. Cell & gene therapies are on the rise:
2. Organizations are turning to CDMOs to help scale production for smaller batch sizes: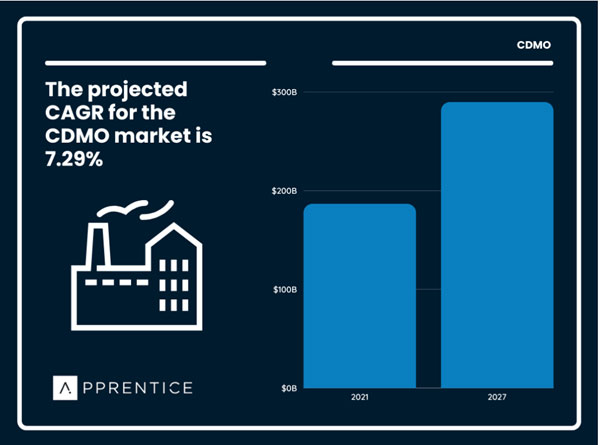 3. There's an increasing reliance on big data and analytics:
From 2022 to 2030, there is a 19.1% projected growth rate for global big data in healthcare.